Viola odorata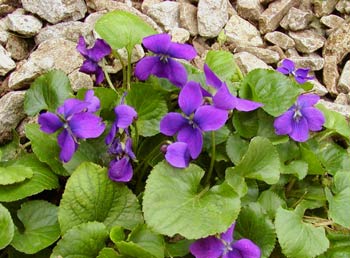 Sweet Violet
... for a petite evergreen perennial
Common Name: Sweet Violet
Latin Name: Viola odorata
Design Tip: Group plants closely for a mass ground cover, or scatter individual plants naturalistically in a woodland scene. In a formal garden, the tidy uniform shape can provide a formal edging along the front of a bed or pathway.
Size and Form: The mostly-evergreen perennial maintains a 3 to 6 inch tall hummock.
Flowers: Sweet fragranced purple blooms occur from late winter through spring, depending on soil conditions and weather fluctuations.
Foliage: Deep green heart-shaped leaves emerge from a central crown and along rhizome-like stems extending from the crown. The leaves remain green in mild-winters.
Cultivation: This woodland plant patiently tolerates the Texas summer, springing into new growth and bloom during the cool months. It will stay attractive all year in a humus-rich moist soil, or the fleshy rhizome-like stems will sit dormant through a hot summer until fall's cool rainy weather spurs new growth. Apply bloodmeal in fall to induce best bloom production.
Light Exposure: Sweet Violet will live in full shade to part sun.
Hardiness: It is native to Europe, but has naturalized in USDA Zones 5-10.
Propagation: Plants can be increased by dividing clumps in the cool months. Seed germination requires a prolonged cold spell for stratification. It does not become weedy from self-sown seedlings, as many other wild violets do.
Grooming: Heat-weathered leaves can be clipped to the ground in late summer to instigate new tidy growths. Without a trimming, new autumn leaves soon hide the weary ones.
Snippets: The edible blooms and leaves make a delightful garnish in salads and ice cubes, or on dessert and tea sandwich plates. A simple clutch of leaves and blooms in an eggcup makes a petite bouquet. Sweet Violet's essential oil has long been used in perfumery and European breath-freshening candies. Cultivars may be sought by special order, but the Viola odorata wild species is the most durable in hot climes. It is often confused with V. labradorica which reseeds as a weed, does not spread by stolon-like stems and does not have the distinctive fragrance of the true sweet violet Viola odorata.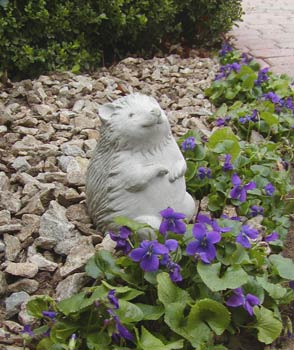 Cultivated, photographed and written by
Maggie Ross McNeely in Ft. Worth, Texas
All rights reserved