Magnolia soulangiana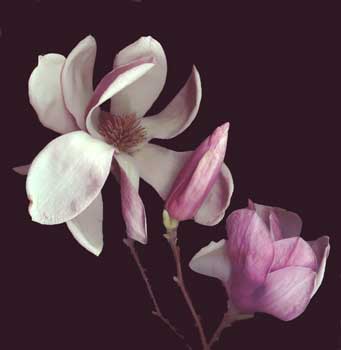 Saucer Magnolia
…for a tree-full of cup and saucer sized blooms
Common names: Saucer Magnolia
Latin Name: Magnolia x soulangiana
Design Tip: Place under the canopy of a tall deciduous tree with other blooming shrubs. Surround it with evergreen groundcovers and shade loving perennials to produce a yard-sized woodland alcove.
Form: This flowering ornamental is considered a large shrub or a small multi-branched tree, attaining a domed egg shape in maturity.
Size: In North Central Texas the height generally remains around 15 feet, but in acidic soil in mild-summer climes, it may reach 25 feet tall and spread 15-20 feet.
Flowers: Tall buds form during winter, opening before the leaves appear in early spring. Resembling large tulip blooms on bare branches, the pink colored varieties open with lighter interior petals for a two toned flower measuring 6 to 8 inches across. Hybrid cultivars are available in various shades of pink, creamy yellow, magenta and white. The brief two weeks of bloom are highly valued when little else is in flower.
Foliage: Deciduous, six-inch long leaves form after the bloom phase, providing attractive foliage throughout the growing season.
Cultivation: Mature specimens attain a good degree of drought resistance when sited with westerly shade in a deep, well drained, humus-rich soil with a neutral to acidic pH.
Cold Tolerance: This magnolia is cold hardy is USDA Zones 4-9, but the early bloom buds may be ruined by early-spring freezing temperatures in the northerly regions.
Grooming: The plant develops a large oval form when grown untrimmed, or the lower branches can be removed in its youth to create a small tree shape. Alternatively, the top branches can be trimmed after blooms fade to reduce the height.
Snippets: The original M. soulangeana hybrids resulted from a cross between M. denudata and M. liliflora. Breeders have continued to broaden the selection while aiming for larger, brighter, bigger blooms, resulting in dozens of named varieties.
Cultivated, photographed and written by
Maggie Ross McNeely in Ft. Worth, Texas
All rights reserved