Encore Azalea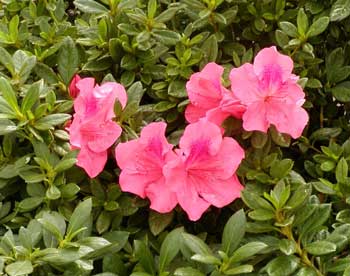 …for two seasons of bloom and year-round greenery
Common Name: Repeat-Blooming Azalea
Trademark Name: Encore Azalea
Design Tip: Front matured foundation hedges with shorter azaleas for a second dimension. In formal designs, stagger the shrubs at the points of a V or W formation, rather than in straight rows. Or place them with asymmetrical arrangement in a naturalized scene of mixed woodland plantings.
Form: The evergreen shrubs maintain a natural domed form.
Size: Dwarf compact varieties mature at two and a half feet and the standard types range from three to four feet tall.
Light Exposure: Accepting full or part shade, ideal locations are shaded beds with morning sun, or under deciduous trees with winter sun.
Cultivation: Fall and winter planted azaleas are more easily established than those set in spring and summer. Originating from acidic soils, they can also be grown on alkaline land in raised beds filled with well-drained humus-rich loam of a neutral pH. They require constant moisture to the top 3 inches in the first year, becoming more drought tolerant with age. Top dress with a wood mulch twice a year to conserve moisture. The shredded wood will provide natural nourishment as it degrades. Supplement feed or fertilize only in late winter.
Flowers: Unlike other garden varieties, the Encores bloom from late summer to early winter, as well as in spring. Clusters of one and a half to two inch blooms occur on the tips of each stem. The first cultivars ranged in colors of red, orange, coral, pink and plum. This years introductions include a pale lavender, the first solid white and a white with random flecks of light pink.
Hardiness: Hardy up to USDA Zone 7 and into 6 with protection during severe spells.
Grooming: It is best to allow the shrub to develop without any pruning except for trimming occasional limbs extending far beyond the hummock. Any pruning is best done immediately after spring flowering for maximum summer bud set.
Snippets: Developed by a breeder in Louisiana, they are a favorite spring and fall bloomer at the Dallas Arboretum and have recently been installed at the Fort Worth Botanic Gardens. In addition to Encore Azaleas being retailed in garden centers across the south, they are also available by mail order from 1-888-922-7374 and on line at http://www.plantsbymail.com
Cultivated, photographed and written by
Maggie Ross McNeely in Ft. Worth, Texas
All rights reserved