Italian arum, Cuckoo Pint, Lords and Ladies
Arum italicum
… for exotic winter foliage, woodland spring flowers and red berries.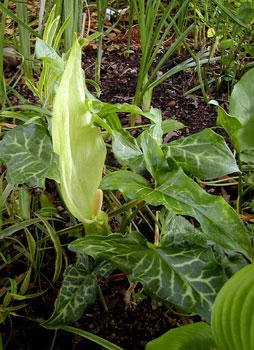 Design Tip: Plant the rhizomes in fall between annuals or among groundcover plants or spring bulbs in woodland gardens and shaded borders for attractive winter foliage. Place along a frequently used walkway, where the evolving flowers and berries will not be missed
Form: This tuberous-rooted perennial has a different stage in every season. The leaves emerge in the form of caladium plant, but persist all winter in mild winter climates. Flowers are produced in spring, followed by a spiked cluster of bright red/orange berries before all growth declines into a summer dormancy.
Size: Depending on variety and cultivation, the size will range from six inches to one foot tall.
Flowers: The minute flowers occur on a finger-sized spadix, sheathed by the typical aroid spath resembling Jack-in-the-Pulpit blooms. The tiny flowers produce green berries that ripen to reddish orange in early summer.
Foliage: The 8-12" long arrow shaped green leaves vary greatly in markings, depending on the variety. Variegation of named cultivars ranges between light green or silvery white marbling, or mottled spots betweenpale green veins. New leaves emerge in autumn and are evergreen in warm winter climates. However, in cold winter climates, the leaves die in winter with new leaves emerging in early spring. In all climates, foliage goes dormant in summer.
Cultivation: When grown in a humus-rich organic soil, it adapts well to the Texas climate, due to the summer dormancy and cool growing season. Plant each root section two to three inches deep in fall, spaced at least one foot apart. New plants may seem meager the first autumn, but will mature fuller each year.
Light Exposure: Grown under deciduous trees provides the preferred part to full shade in summer, and dappled shade in winter.
Hardiness: It is winter hardy in USDA Zones 5-9, although above zone 6, foliage may retreat in winter to emerge in spring.
Snippets: Mature glossy, firm, leaves provide flower arrangement greenery in winter. Named cultivars have more distinctive markings than the species forms. The root-starts are commonly available through mail order bulb suppliers.
Cultivated, photographed and written by
Maggie Ross McNeely in Ft. Worth, Texas
All rights reserved