September
North Central Texas has one more growing spell
than most climates.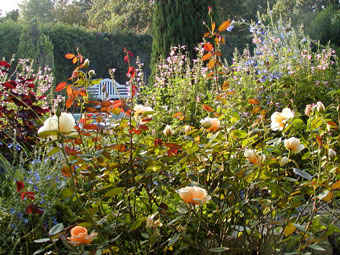 Summer wanes into spring-like weather before autumn arrives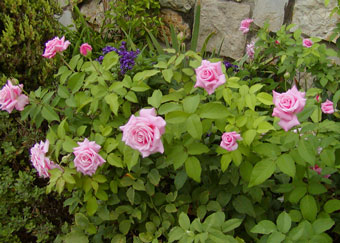 and roses bloom as they did in April.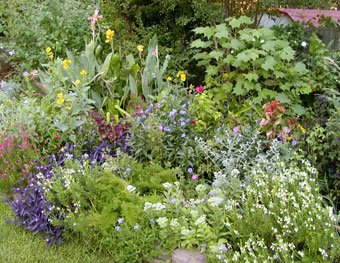 But even better, the borders are more lush
with fuller growths than they are in spring.
The Twin Terraced Beds aren't exactly identical twins,
but are equally pleasing.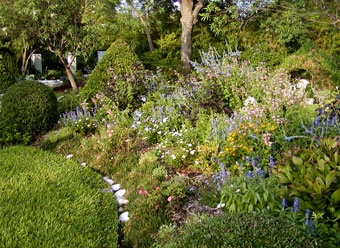 A solid span of blooms in the TT beds attract many a winged friend on the feed,
including migrating Monarchs and resident butterflies.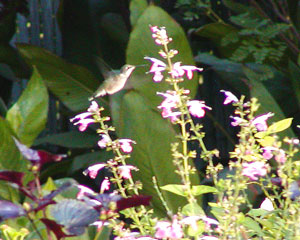 The hummingbirds particularly like the Salvia coccinea 'Coral Nymph' .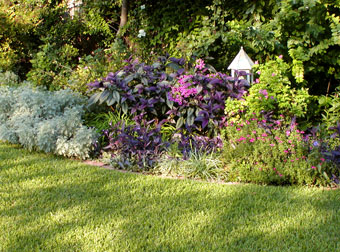 The Violet Bed lives up to its name wtih Sweetpea rose, raspberry
Salvia greggii, Persian Shield and Phlox paniculata.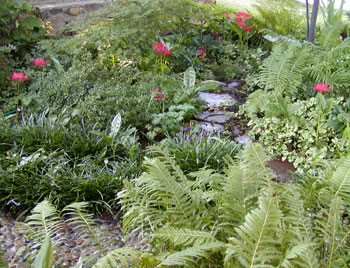 Lycoris radiata light up the Oak Bed.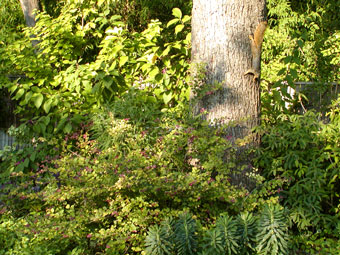 And Chip is counting his pecans before they hatch.
~~~~~~~~~~~~~~~~~~~~~
or
Return to the Come Stroll Index
~~~~~~~~~~~~~~~~~~~~~
Come Stroll articles are open for
comment or discussion on our Garden Forum board.
All images on the Come Strolls are made in the garden by Maggie.
Please apply for possible permissions.
~~~~~~~~~~~~~~~~~~~~~~