May
With the heat, comes the colors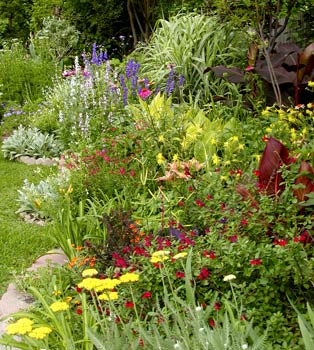 Summer happens fast in Fort Worth.
In mid-March, the Long Border shows more mulch than green.
By mid-May, there is no ground to be seen.
The re-seeding annual poppy is allowed to squeeze up alongside Verbena bonariensis in the back corners of the Twin Terraced Beds and a few patches of larkspur and poppy are allowed to germinate in the Long Border each year.
Here, in North Central Texas, these two annuals finish in late spring / early summer, leaving gaps that are soon filled by developing growths of heat loving perennials.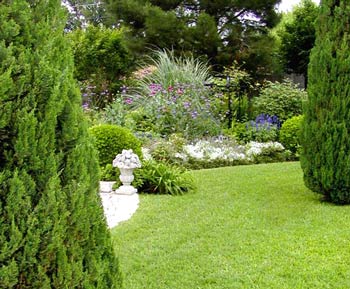 Over twenty years ago, six widely spaced Blue Point Junipers were
planted around the swimming pool - 3 on each side.
As it is with old gardens, things eventually need renovation.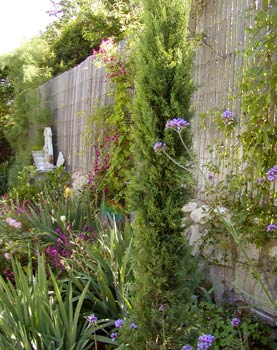 So, the major project for May was to replace half the original junipers (on the fence side of the pool) with three Italian Cypress trees. This is not an easy task for maturing gardeners, also in need of replacement parts. But somehow, the two of us managed to struggle through it all with vows still in tact.
Many varieties of clematis bloom on the wooden fence in May. The bare areas of exposed fence are where the huge junipers once shaded the fence.
Now that the sun shines all around the narrow cypress trees,
there are several 'open windows of opportunity' - to add more clematis.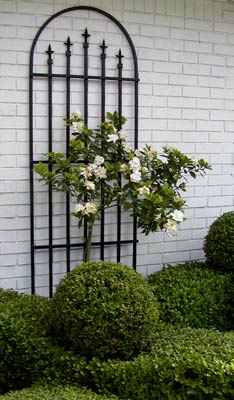 Last year, the Knot Garden wall also had an update. I removed the ancient prickly espaliered Pyracantha that filled the blank space between two windows. It had never gotten over the assault from nearby foundation work, and really needed more sun anyway. A quick, no-labor solution was a piece of trellis and a potted Gardenia standard. The box hedge and roof eaves protected it well enough through winter to leave it in place all year.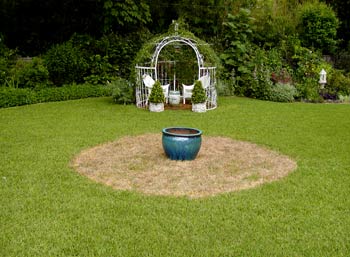 As for the next project, something must be done
about those darn crop circles.
The fairies' and gnomes' homes are now safely shaded
by Mulberry tresses.
In the oak bed, the Oak-Leaf Hydrangea flowers . . .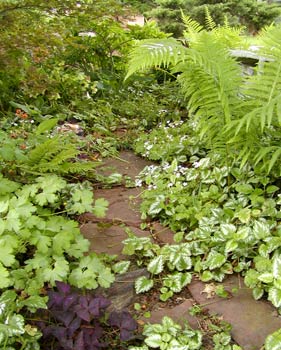 . . . matched by white Oxalis blooms along the inner path.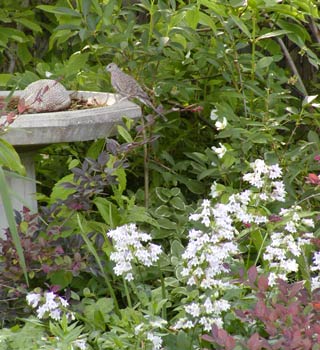 Penstemon blooms in the shade of a 40 year old native pecan
where Mother Dove is sneaking a sip while . . .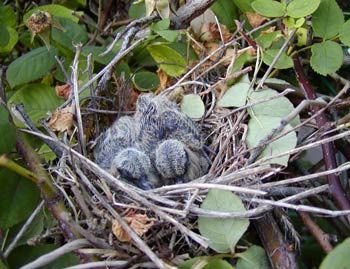 . . . her chicks are snug in rose arbor boughs.
~~~~~~~~~~~~~~~~~~~~~
or
~~~~~~~~~~~~~~~~~~~~~
Come Stroll articles are open for comment or discussion
on our Garden Forum board.
All images on the Come Strolls are made in the garden
by Maggie Ross McNeely.
Please apply for possible permissions.
~~~~~~~~~~~~~~~~~~~~~~~~~~~~~~