March
A spring garden in North Central Texas can host enough varieties to provide perennial debuts for almost every morning in March - far more than
can be reported on one page. Here is a sampling arranged in
in opening sequence.
When the crocus open late, they bring some color into March.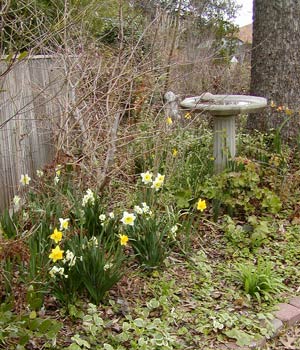 The earliest daffs open under the pecan,
... followed by later varieties and the sumptuous Magnolia soulangeana.
On the other side of the tree trunk, Loropetalum Chinense opens as the
background of forsythia yellow decline.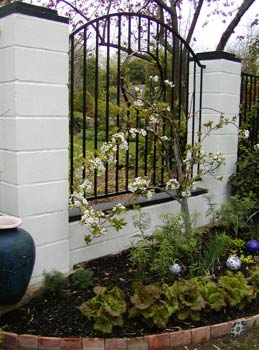 The espaliered Bartlett and Asian pears bloom in the herb nook, where a 10 year old Arp rosemary topiary succumbed to last years wall construction. A clump of dill fills it vacancy in front of the column for spring, until a replacement rosemary matures into bed-size. Leaf lettuce edges the bed during the cool season.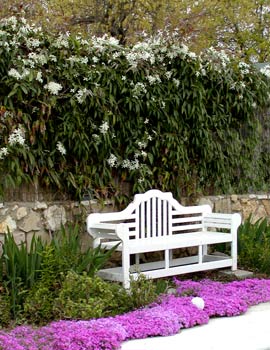 Clematis armandii and Phlox subulata perfume the top garden.
Some years, the bearded iris bloom in concert.
This spring, they've decided to open with the roses in April.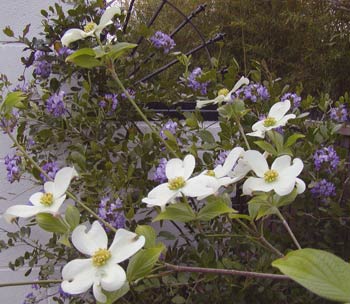 Texas Mountain Laurel (Sophora secundiflora) and the East Texas
native dogwood (Cornus florida) join forces near the back gate.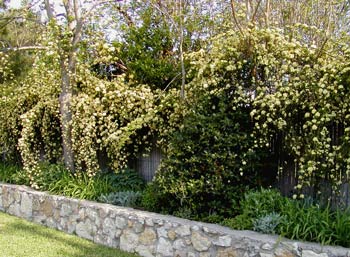 Dependable as ever, the durable Lady Banksia rose drapes a wooden fence.
She is well overdue for a close trimming in this pic.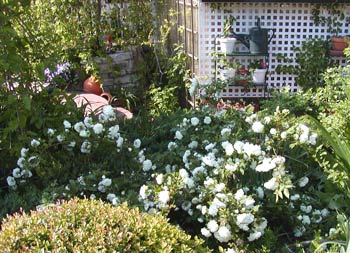 The mystery plant (detailed here)
opens well before the roses.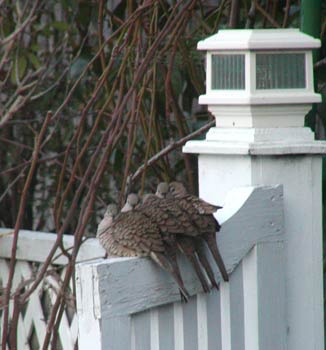 Say 'Seeeeed'
~~~~~~~~~~~~~~~~~~~~~
or
Return to the Come Stroll Index
~~~~~~~~~~~~~~~~~~~~~
Come Stroll articles are open for comment or discussion
on our Garden Forum board.
All images on the Come Strolls are made in the garden
by Maggie Ross McNeely.
Please apply for possible permissions.
~~~~~~~~~~~~~~~~~~~