August
is often as hot as July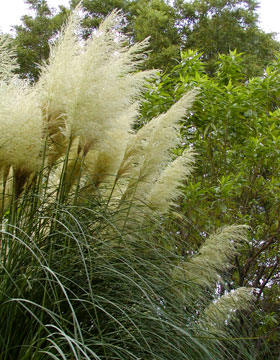 when two stands of pampas grass open
high blooms below the Twin Terraced Beds.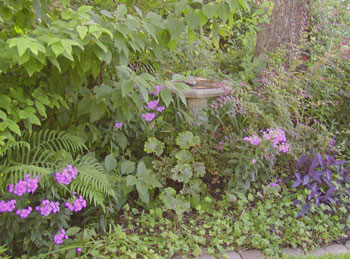 The durable Phlox paniculata brightens up the shady pecan bed.
New to this garden is the nearly tender Blue Potato Bush aka Nightshade (Lycianthus rantonnei ). I won't mind if it succumbs in winter, being far too large a plant for its current location. I constantly trim the other side of it close to the ground to keep its long limbs from smothering the TT bed perennials.
A variety of lavenders are in need of a
summer hair cut along the drive way.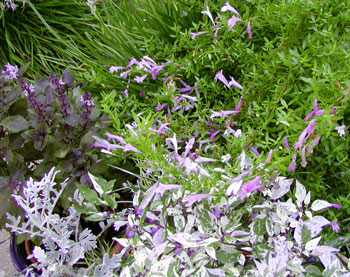 At the entrance to the herb beds, there is a nice color combination of black basil, ornamental pepper and Mexican oregano with lilac blooms of society garlic hovering over them (out of frame) .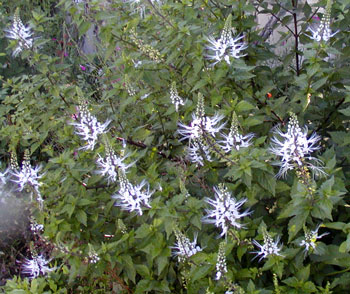 A favorite white bloomer is Cat Wiskers (Orthosiphon stamineus), another large space filler plant. It is winter-tender in this zone, but worth replanting annually to hide declining spring bloomers.
I hadn't used caladiums in the front beds for twenty years, but have really enjoyed them there this summer. To stir things up a bit, I mixed up 5 varieties instead of segregating them. I rather like the result - bouquets of color instead of monotone mounds.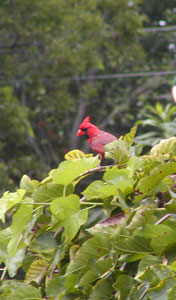 The shy cardinals are getting braver each year.
~~~~~~~~~~~~~~~~~~~~~
Go to September
Or Return To
~~~~~~~~~~~~~~~~~~~~~
Come Stroll articles are open for comment or discussion
on our Garden Forum board.
All images on the Come Strolls are made in the garden
by Maggie Ross McNeely.
Please apply for possible permissions.
~~~~~~~~~~~~~~~~~~~~~~~~~~~~~~