April
The opening of azaleas heralds early spring in North Central Texas,,,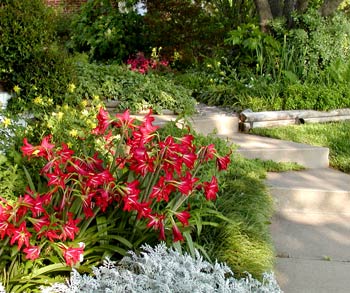 ... soon followed by red trumpets of the old passalong Amaryllis (Hippeastrum johnsonii). These have been here since before we moved in, over twenty years ago.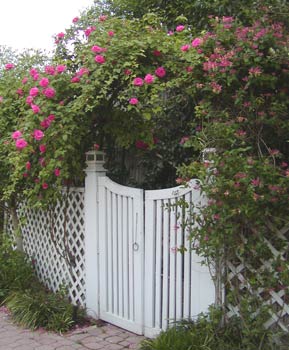 In the backyard, roses and iris open together.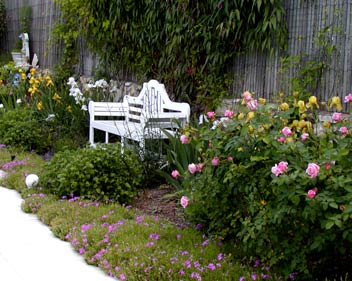 The morning bench is good place to watch the sun rise from behind the fence,,,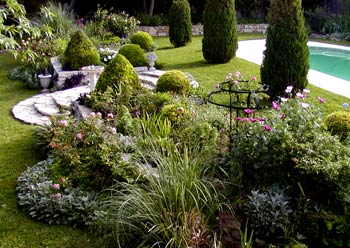 ... to light up the Twin Terraced beds.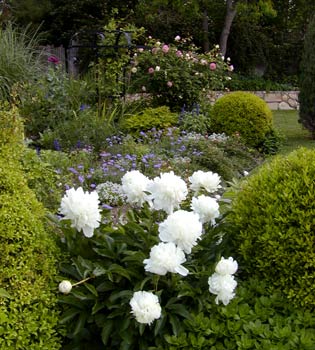 'Snow Mountain' is usually the first peony to open in the TT beds.
Scabiosa columbaria 'Butterfly Blue' and white Alyssum bloom behind it.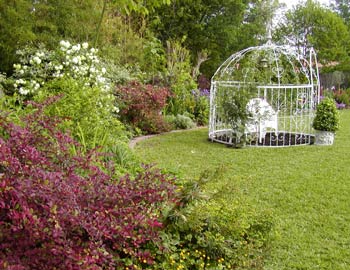 A Snowball Viburnum and Loropetalum chinense surround the little arbor.
Several mild winters had allowed the arbor's passion vine to remain evergreen for so long that we had to remove a six inch thatch of its old tendrils to rescue the arbors rusting metal. An entire weekend of sanding and painting should help it hold up for another few years.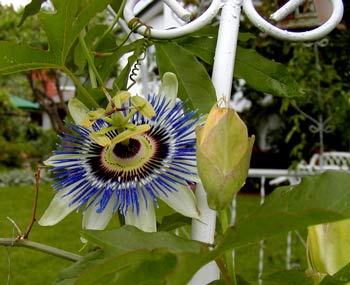 While removing the thatch, I kept a few long green stems for attaching back onto the frame after its facelift. Organic rose food spurred them into instant growth followed by early blooms.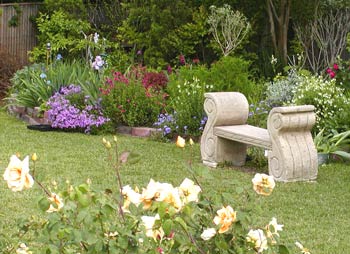 Some early bloomers front the Long Border.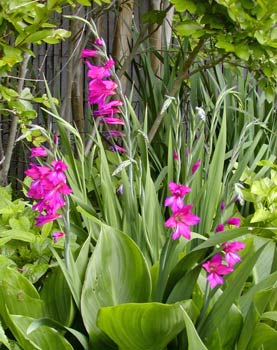 Spring bulbs such as these Byzantine gladiola live behind them,
before taller summer perennials rise to hide their declining foliage.
Having lost the herb beds birdbath bowl, it has been replaced with a sphere top. If I'm ever able to find a replacement, it will be permanently attached to the blue pedestal - to avoid being knocked off its perch again by a very fat, thirsty cat.
Mail ordered bare-root plants, seedlings, rooted cuttings and some baby bearded iris are maturing in the patio nursery area.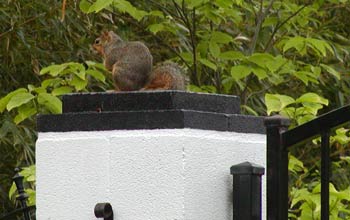 It has become a tradition to close the stroll with a critter friend,
so Chip graciously provides a final finial.
(I always know its him by the chip out of his left ear)
~~~~~~~~~~~~~~~~~~~~~
or
Return to the Come Stroll Index
~~~~~~~~~~~~~~~~~~~~~
Come Stroll articles are open for comment or discussion
on our Garden Forum board.
All images on the Come Strolls are made in the garden
by Maggie Ross McNeely.
Please apply for possible permissions.
~~~~~~~~~~~~~~~~~~~~~~~~~~~~~~